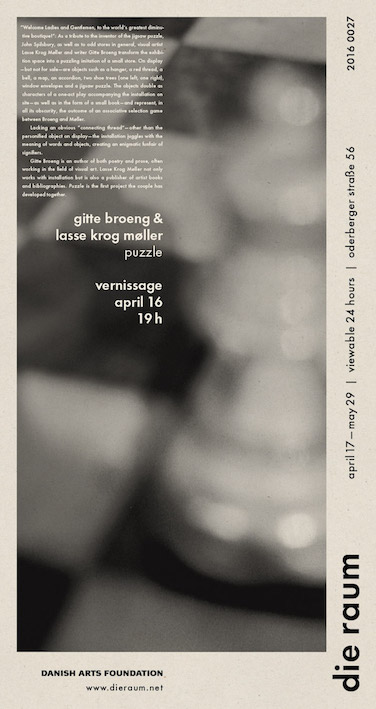 Gitte Broeng & Lasse Krog Møller 
"Welcome Ladies and Gentlemen, to the world's greatest diminutive boutique!": As a tribute to the inventor of the jigsaw puzzle, John Spilsbury, as well as to odd stores in general, visual artist Lasse Krog Møller and writer Gitte Broeng transform the exhibition space into a puzzling imitation of a small store. On display – but not for sale – are objects such as a hanger, a red thread, a bell, a map, an accordion, two shoe trees (one left, one right), window envelopes and a jigsaw puzzle. The objects double as characters of a one-act play accompanying the installation on site – as well as in the form of a small book – and represent, in all its obscurity, the outcome of an associative selection game between Broeng and Møller.
Lacking an obvious 'red thread' – other than the object and its character – the installation juggles with the meaning of words and objects, creating an enigmatic fun fair of signifiers.
Gitte Broeng is an author of both poetry and prose, often working in the field of visual arts. Apart from working with installation Lasse Krog Møller is also a publisher of artist books and bibliographies. Puzzle is the first project the couple has developed together.
17 April – 29 May 2016. On display 24/7 in die raum, Oderberger Straße 56, Berlin.
Installation views (click to enlarge):